Johannes Hevelius (1611-87) named this little grouping of stars Lacerta in 1690. but the road to "Lacertadom" was a bit bumpy. Others had put various small, long tailed mammals here. Others tried various kings.

Hevelius (originally Johann Hevel) was born in Danzig (Gdansk) and studied law on the other side of Europe in Leiden. After some traveling he settled in Danzig as a brewer and a member of the town council. That placid life concealed a deep, dark secret. He loved astronomy more than anything else. His love became public in 1641 when he built an observatory at his house. He studied sunspots, the moon (mapping it extensively, and discovering its libration), discovered four comets (suggesting they had parabolic orbits), and made friends with Polish kings.

Fire destroyed his observatory in 1679, and his health suffered from the shock of the loss. The atlas that named Lacerta was published in 1690, three years after his death. It was dedicated to the Polish king John III Sobieski.

Each map can be clicked on to produce a 916x1200 version of it. They sport red labels, which look good on screen, but which disappear when used with red flashlights. Each map, therefore has a second link to a map better suited for printing in a graphics program, and using in the field. While they are quite large, they are all about 50k, and so are easy to view at today's modem speeds. The first map is a wide area view of the constellation, suitable for naked eye browsing. The next views are binocular width, showing stars to mag. 10, deepsky objects to mag. 12.9, and labeling deepsky objects to magnitude 12.
Interactive, wide area map of Lacerta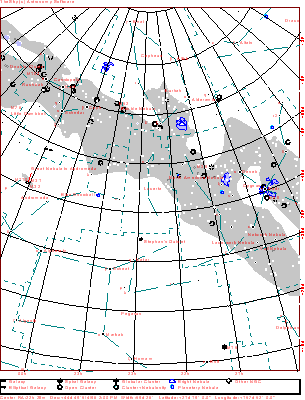 Click the map for a 916x1200 version of the above. Click here for a map better suited for use in the field.
Detailed View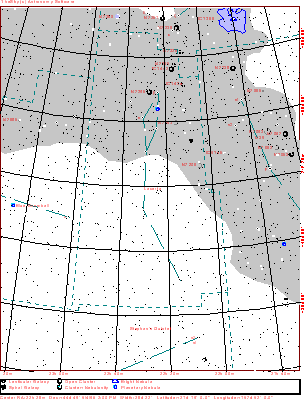 This a more detailed view of the constellation. The map displays stars to magnitude 10, and deepsky objects to magnitude 12. Click here for a map better suited for use in the field.

77k JPEG NGC7243 (Best 59, Caldwell 16) is a loose, sparse cluster in a rich field, located 2.6° WSW of alpha Lacertae. It contains about 40 stars spread over a 27' area. Dreyer calls the stars themselves "very large," meaning that the brighter stars in the field are the ones that belong to the cluster. Image from the Digital Sky Survey.


26k JPEG IC1434 is a fine open cluster containing six "branches." It measures 8' across, and contains about 40 stars from mags. 12-15. A nice cluster for 10" scopes at very dark sites. It sits 2.1° WNW of Beta Lacertae. Image from the Digital Sky Survey.


82k JPEG NGC7209 (Best 58) is an open cluster described as large (25'), quite rich (25 stars), fairly condensed, with stars from mags. 9-12. It sits in western Lacerta, nearly on the border of Cygnus. The bright (mag. 6.1) star near the top of the image is SAO51632. Image from the Digital Sky Survey.


If you have any questions about the Hawaiian Astronomical Society
please (link requires javascript).